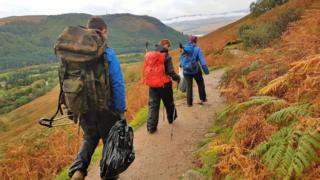 A bag of chewing gum and an empty-bellied 1980 s packet of peanuts were among 121 kg( 267 lbs) of rubbish are available on Ben Nevis.
Fourteen voluntaries replenished 21 pockets during a garbage pick on Scotland's highest mountain on Saturday.
The debris found on the hillside included a peanut packet with a better before year of January 1987 and a lump of chewing gum weighing 4kg( 9lbs ).
It was one of a series of happenings across the UK organised by the Real 3 Peaks Challenge.
A total of 570kg( 1,256 lbs) of consume was taken off seven flowers in Scotland, England and Wales. They were: