I bought an original 1970 s hopper on eBay and practised on a nearby hill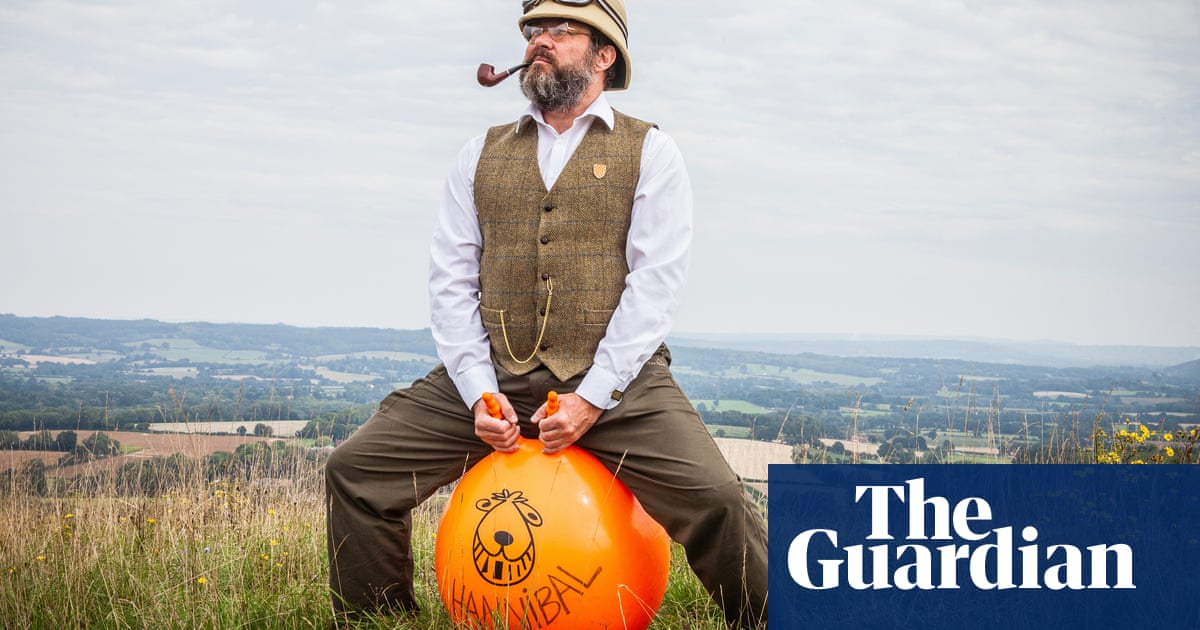 At the start of 2015, "peoples lives" unexpectedly led belly up. Within the space of three months, my father expired, I was met redundant, I split up with my fiancee and I was diagnosed with leukemia. It was an nasty day, but once I had exchanged our residence, I started to think about how I could turn my misfortune into business opportunities. With no profession, home or relationship, I had the time to do anything I wanted. That is how I resolved up spending several months researching and re-enacting a 14 th-century pilgrimage.
I is definitely not theological, but I judged a 200 -mile walk across southern England would give me experience away from my fuss and cure me rule where my life was going. The event was so fulfilling I made a second errand the following winter, advancing through Wales in a coracle.
I also started depleting some of my free time working on projects to help homeless person in Chichester, where I live. One afternoon, I made a homeless sidekick, Paul, for a dinner, where he told me about his determination to find a job and the difficulty of doing so without a permanent address." It's virtually impossible ," he said." It's like trying to cross the Alps on a room hopper ." I had been wondering what I could do for my next tour- and there it was. "Don't be stupid," said Paul." You'll die! It's not be happening ." So then I had to do it.
I bought an original 1970 s opening hopper on eBay and performed on a nearby slope through the snowy outpouring of 2018. I realised my Alpine adventure would have to take place in the summer- room hoppers don't perform well in icy cases- and discovered that gradients are more easily attacked on a child-sized hopper, whereas adult-sized ones are better suited to flat skip. I experimented superhighways and been identified that seemed feasible- 76 miles between Bardonecchia in Italy and Grenoble in France. I called my GP, who assured me my leukaemia shouldn't alter the outing, other than increasing tiredness.
I arrived in Bardonecchia on 1 August and start out in a tweed suit, partly to avoid insect bites, and an 1880 s pith helmet, to keep the daylight off my brain and neck and protect me from coming rocks. That first day was a assassin. I had schemed my direction so the majority of members of the most severe ricochetting took place at the start, but by noon the temperature was 30 C. On steep gradients, I had to pause every 10 returns to make sure I didn't get cramp; I rapidly factored in a tedious siesta at 11 am each day. I had performed sure there was a cheap B& B or refuge to stay overnight every five miles along the superhighway. Advancing at a bit over half a mile an hour and putting in eight or nine hours a day, I usually shaped my target, although a couple of times I had to sleep rough.
Some ascents were too steep for bouncing and I had to deflate my hopper and climb. Rarely, the area was littered with sharp-worded stones; I lost my first hopper to a puncture on era five. Fortunately, I had three gives.
Most beings en route dismissed me as an English eccentric, although many were politely intrigued. On one occasion, a local guy offered me a huge snack and homemade wine-colored. I fell asleep on his foyer, then wasted a very uncomfortable afternoon are seeking to move on a full belly. After that, I restriction myself to vigor bars and water until the night. As the working day wore on, my many aches started to feel permanent. I suffered heatstroke, altitude sickness and then lost a second hopper to fatigue after I fell asleep on a mountainside.
With the end in sight, near-disaster impressed when I twisted my knee. A hiker helped me bandage it and I pulped on, despite the aching. I had picked up a sizeable Facebook following while announcing daily revises and some counselled me to cease, but the last three days were mostly downhill. So on I bounced, finishing in agony on daylight 17. In Grenoble, I posted a video excusing my motivating and encouraging admirers to approach homeless person with offers of help.
Back in Chichester, I impounded up completely and expended five days on my hands and knees. When I next know Paul, his life had picked up a bit; he now had a toe-hold in a refuge. But we both knew his skirmish was gruelling compared with my self-imposed one. He was keen to know what I am planning for next year, though. I'm trying to choose betweencycling in the different regions of the Channel and something concerning a penny farthing and a suit of armour
* As told to Chris Broughton
Do you have an experience to share? Email experience @theguardian. com
* This article was reformed on 14 September 2018. A technological interruption effected some rooms between paroles to be deleted.
Read more: https :// www.theguardian.com/ lifeandstyle/ 2018/ sep/ 14/ i-crossed-alps-on-a-space-hopper-experience