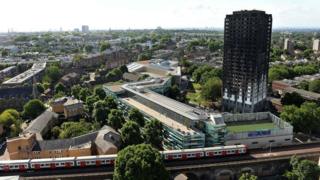 London's fire commissioner says the Grenfell Tower blaze must be a "turning point", calling for sprinklers in all high-rise congres flats.
At least 80 parties died when burn engulfed the west London block in June.
A BBC Breakfast investigation which focused on half the UK's council and house association-owned tower blocks spotted simply 2% have full sprinkler systems.
Of those, 68% is only one staircase through which to evacuate.
A public inquest will look at the causes of the flame, the sufficiency of high-rise regulations, Grenfell Tower's refurbishment, and the actions of public authorities before and after the blaze.
The inquiry will impound its first hearing on Thursday, with an initial report due by Easter.
The Department for Communities and Local Government says it will consider whether to retrofit sprinklers based on the inquiry's recommendations.