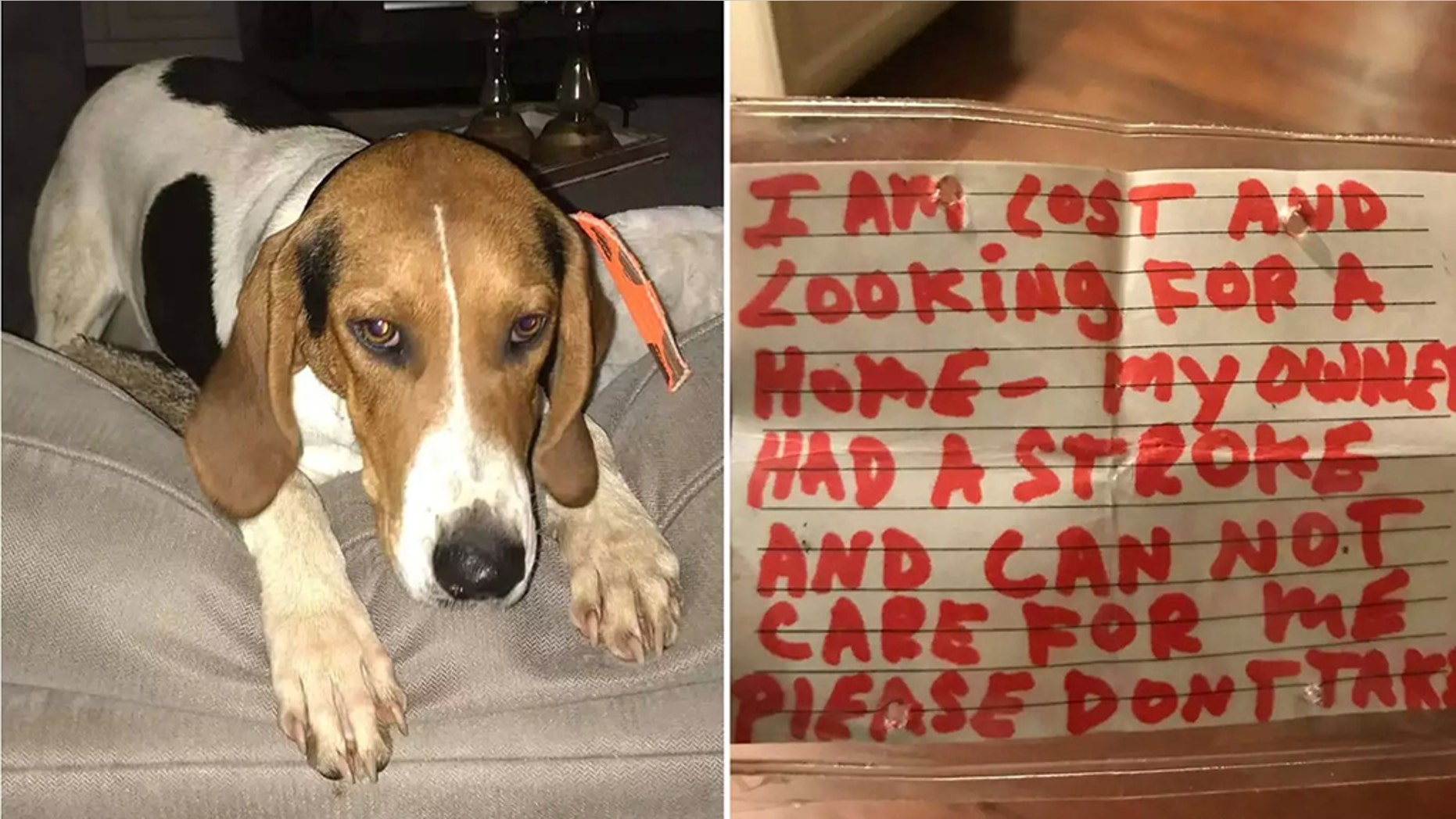 One six-month-old Michigan puppy named Ghost is looking for a new home before Halloween, as the dog was found abandoned with a heartbreaking note on her neck: "My owner had a stroke and cannot care for me… Please find home."
On October 3, animal rescue group Luvnpupz shared the story of the female coonhound who was found "wandering alone" on the streets of Kent County, "hungry, cold, sad and confused," to Facebook, ClickonDetroit.com reports.
"I am lost and looking for a new home – my owner had a stroke and cannot take care for me. Please don't take me to a shelter. I am a purebred coonhound, 6 months old, please find home," the emotional note found attached to her collar reads.
Photos of Ghost and the heartbreaking plea have since gone viral on the social platform with over 1,120 shares.
PET CAT DISAPPEARS FROM OWNER'S MONTANA HOME, REAPPEARS OVER A YEAR LATER IN NEVADA
Moving forward, Luvnpupz hopes to find Ghost's owner, in order to coordinate a smooth adoption into a new, loving forever home, according to their post online.
Meanwhile, Ghost's story has struck a heartstring with many in the Facebook community.
"Breaks my heart," one user wrote.
"Oh this is devastating. Its a good wake up call for all of us," another agreed.
"My heart [hurts] for the person who had to let her go. I hope you find them and maybe she could help them recover," another chimed in.
Luvnpupz president Carri Shipaila said that people should empathize with Ghost's former owner, and others in similar positions who are no longer able to care for their beloved pets, ClickonDetroit.com reports.
FOLLOW US ON FACEBOOK FOR MORE FOX LIFESTYLE NEWS
"If you can't take care of the animal, surrender it to the shelter, call the shelter, call your vet, check your neighbors, ask your friends, see if you can place it responsibly," Shipaila said. "People are going to look at this in a bad light: 'Oh, how could somebody do that?' Walk a day in their shoes, then understand. We don't know the circumstances, but we're here to help."
As of Saturday, Ghost's original owner had not yet been found, according to the animal rescue group.
Read more: https://www.foxnews.com/lifestyle/michigan-puppy-abandoned-found-wandering-with-note-please-find-home