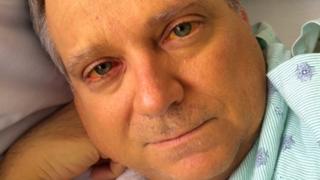 Jim McCants took lettuce tea pods in a drive to get healthy in middle age. His doctors now say they left him requiring an urgent liver transplant, writes the BBC's Tristan Quinn.
It should have been one of the happiest daytimes of their own lives. But Jim McCants gazes back on his youngest son's high school graduation with mixed affections. As he sat down next to his wife Cathleen in colleges and universities auditorium, just outside Dallas, Texas, she turned to look at him.
"She said 'Do you feel OK? '" Jim recollects. "I said, 'Yeah I feel fine, why? ' 'Your face is yellowed, your eyes are yellow, you inspect terrible.' When I ogled in the mirror it was shocking."
It was outraging partly because Jim, then 50, had been working on improving his lifestyle and losing force, focusing on dining more healthily and taking regular exercise.
"My dad had a heart attack at aged 59 and he did not make it, " says Jim. "There's a lot that he missed out on with us and I was determined to do what I can to take care of myself as excellent I can, so that I don't miss out."