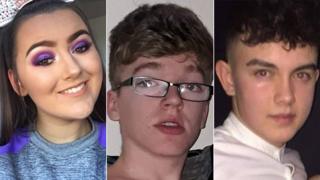 Three boys have died after the two reports of a crush at a St Patrick's Day party at a inn in Cookstown, County Tyrone.
Lauren Bullock, 17, Morgan Barnard, 17, and 16 -year-old Connor Currie, died after security incidents outside the Greenvale Hotel on Sunday night.
The police said a large group of young person had been waiting to get into a disco at about 21:30 GMT.
"No matter how much we screamed and pushed back, there was no fluctuation, " said eyewitness Eimear Tallon.
'Then the literal oppres started'
Media caption'Everybody just wanted to get inside' – Cookstown witness Kyra Coyle
Media captionACC Mark Hamilton: 'There was a crush towards the front door'
Media captionCookstown inn incident 'upsetting'
Image caption Bloom were left outside the Greenvale Hotel in Cookstown on Monday